Children
Following are short memorial stories about some of the children of the people that are the focus of this site. So the people mentioned here are actually grandparents, granduncles, and grandaunts, etc. to me.
Tena Thompson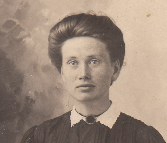 I feel lucky to have known Tena. Starting in the 1950s, my family would visit South Dakota during many summers. I would stay at her farmhouse, which until some time in the 1960s had what we would say today were primitive plumbing facilities. I also spent one summer on the farm in the early 1970s. I painted the house (with the help of my friend Tony), learned about the harvest by driving grain trucks and operating augers, and listened to the Watergate proceedings on the radio. Many evenings we would visit her daughter, Anna, whose farm was about ten miles west of us. We drove an old Chevy that had belonged to my Uncle Vern. It liked to go fast, but, once stopped, did not want to restart until it had cooled. So, our visits had to last long enough for the car to be willing to restart. Probably most importantly, I shared time time with Tena, who was supportive and concerned about my safety when operating tractors, augers, trucks, etc. This was a memorable summer.
Tena was relatively tall and thin. Pictures reveal that she was an attractive young woman. She was born at her parents' farm in Arena Township west of Hoven, SD. She was the second in a family of four children (Anna, Tena, Mathilda, and Oscar).
In the winter of 1910 she married Joe Rhombs in her parents' house. Joe was a hired-hand for Tena's father, Ole, so I presume that is how they first met. I believe that Joe was introduced to the Thompson family while visiting (or living with) his older sister, Carrie, who had a farm with her husband Bert Austin just a mile or so to the north of the Thompson farm. I suspect that Joe came to the area around 1905, so he and Tena had probably known each other for 5-6 years prior to their marriage.
Their wedding ceremony was performed by Rev. J. W. A. Collins (a sometimes Methodist minister, school teacher, and farmer). Their witnesses were James W. House (a cousin of Joe's) and Mathilda Thompson (Tena's sister). Guests were Mr. & Mrs. Pete Schwarz (neighbors - wife's name was Elsie) and Mr. and Mrs. Perry Erickson (local friends - wife's name was Emma).
Joe and Tena stayed near Tena's family until 1920, when they moved to their own farm in Roy Township south of Lebanon, SD. (Prior to the move, the 1920 Federal Census shows them renting a farm in Lincoln Township, one township west of the Thompson farm.) Their children (Anna, Vern, and Robert) were born in the years before the move. (I believe that there was one child born at the new farm later who was still-born or died very shortly after birth.) Tena stayed at the Lebanon farm until a few years prior to her death. After leaving the farm, she had an apartment in Gettysburg and then stayed with her daughter, Anna, until her death.
The depression years were difficult, and unfortunately Tena endured the death of Joe in 1940, just as the depression was ending. After Joe's death, Tena stayed on the farm with her son Vern, who died in 1970.
Tena gardened. and cooked. I remember a large garden south of the house, not too far from the well. She also was a skilled cook. I will always remember the smell of her dinner rolls, which I have never been able to recreate. (I know that she used a starter dough, and I suspect that was the secret ingredient.) Dinners (the noon meals) were always a welcome, crowded event when she cooked for the people working on the farm.
I remember Tena as a thin, kind, smiling woman who could bake dynamite rolls and who had feral cats that loved her and hated me.
Joe Rombs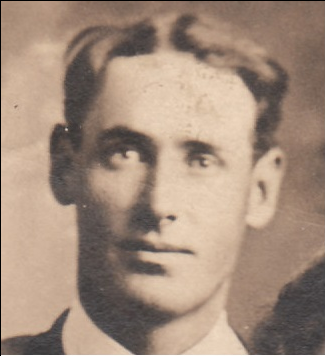 Everything that I know about my grandfather Joe comes from the few extant public records and stories told to me by my father.
Joe was the first child born to Johannes and Barbara Rombs after immigration to the USA in November, 1884, from Russia. He was born almost exactly one year after arrival in the USA. His birth (11/3/1885) and baptism (3/27/1886) were recorded at Holy Cross Catholic Church in Ipswich, SD, but he may have been born at the homestead about 10 miles south, just inside Faulk County, SD. Present at his baptism were Joseph Weisbeck and Elizabeth Usselmann. It is likely that Elizabeth Usselmann was a relative of Johannes on his maternal side. Joseph Weisbeck is likely another immigrant from the same town as Johannes and Barbara in South Russia.
Joe was raised on the family homestead in Freedom Township in the north part of Faulk County. He experienced his mother's death when he was not quite eleven, and he was certainly present when his father married another woman two years after his mother's death. This second marriage was tumultuous due to the violent nature of the stepmother as documented in divorce papers. The point is that his formative years must have been uncomfortable at times.
I suspect that he had a close attachment to his older sister, Carrie, who was also present in the house. Carrie was about ten years older than Joe. Carrie married Bert Austin in 1899 and they lived at the Rombs farm for a while before moving to a farm just west of Hoven in Potter County, SD. Census information shows that Joe was present at Bert and Carrie's farm for a while. It was as a result of this move that Joe picked up work on the nearby farm of Ole and Caroline (Olsen) Thompson. Through this work arrangement he met the daughters of Ole and Caroline, and he eventually married one (Tena).
An aside. - In the early 1900s Joe's last name became Rhombs, not Rombs, in public records. Whether this was intentional or not is a mystery. The change has stuck, and research into his ancestors shows that there is actually precedent for various forms of his surname: Rombs, Rhombs, von Rombs, von Rhombs.
Joe and Tena were married in December, 1910, at Tena's residence (Ole & Caroline's farm). I believe that at some point after the marriage Joe and Tena rented a farm in Potter County, just west of Ole's. In the decade after their marriage Joe and Tena had three children - Anna (1911), Vern (1917), and Robert (1920). In the spring of 1920, after Robert's birth, the family moved to a newly purchased farm due south of Lebanon, SD. Joe, along with his brother Nick, had built a house for them there. This must have been his chance to be totally independent.
According to Joe's 1918 draft registration form, he was tall and stout, with brown eyes and dark hair. (Joe nearly died in the flu epidemic in 1918.) The draft form description fits with my father's recollection that he was tall and strong. There were times when he served as the bouncer at dances in Lebanon.
Dad has told me that Joe loved the horses that he used on the farm, and they liked him. They were Percherons, the same breed that his father (Johannes) had used in Faulk County. Joe was heartbroken when many died of accidental poisoning from oats treated to kill rodents. Dad said that he saw one of the dying horses put its head on Joe's shoulder for comfort after the poisoning. The deaths had a lasting effect on Joe.
The depression was hard on the Rombs family (just like many others). In some years, buckwheat was planted just to have some crop after the original crop of wheat failed. Typical Christmas gifts for the children consisted of an orange and a piece of candy. Animals were taken to Sioux Falls for sale. At one point my father was sent off to a CCC camp near Pierre. This gave him work and the family a little extra money. I think that the difficulty of the times and my father's youth at the time may account for the fact that I have few stories from the 20s and 30s.
In the late 1930s, Joe developed cancer and died in a hospital in Pierre, SD, in November, 1940. He is another person that I am truly sorry that I never met.
Here are a few pictures showing Joe.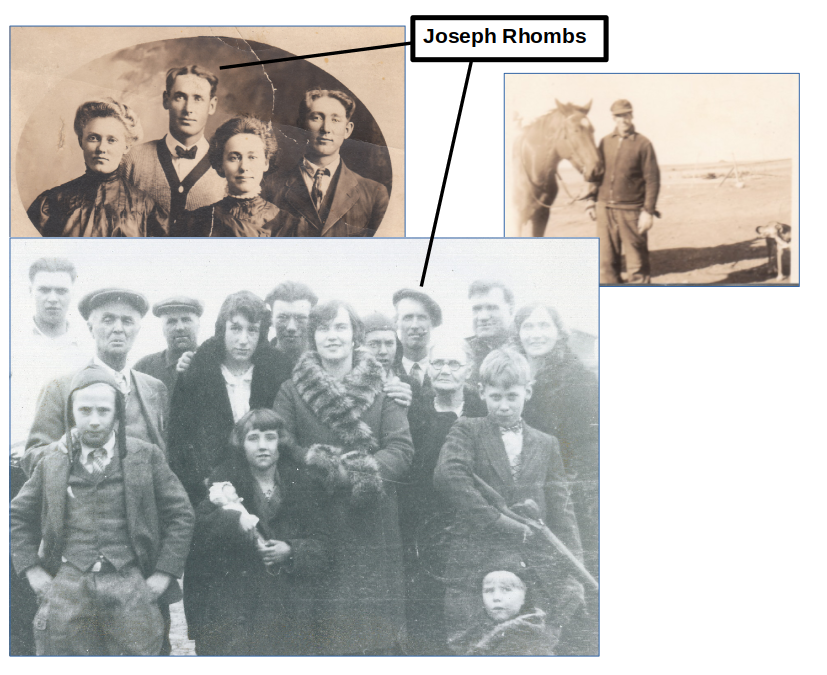 Marian Loy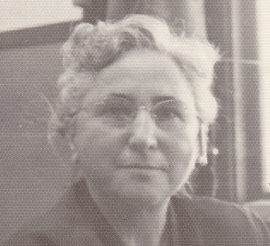 Marian was born in May of 1900 - the third child born to Sam Loy and Anna Allen in Campbell County, SD. Sam had a homestead not too far from the Allen farm, just south of Mound City, SD.
I only rarely spent time with Marian as I was growing up. I do, however, know that she was very studious, loved gardening, and felt strongly that her daughters should receive education beyond the high school level. She taught school at various times in her life. Later in life (the 1960s) she took a bus tour of the United States and visited my family in Georgia. She did this alone, which is evidence that she was a pretty strong-natured individual.
Marian's early years were spent on the farm in rural Campbell County. However, some time before 1920 the family moved to Spring Butte Township in Adams County, ND. In the 1920 federal census she appears twice - once in Adams County where her family was and once in Castle Butte Township in Perkins County, SD, as a lodger. In both cases her occupation is shown to be a public/rural school teacher. My guess then is that at age 20 she was teaching school in the Castle Butte area.
At the same time, residing in the same township, was the family of Harry Bates. Harry was living with his sister, Sue, and mother, Agnes, in the home of Agnes' second husband, Alvin Randall. Sue was about the same age as Marian, but Harry was much older - about 33 years old. This is and was a pretty remote area. The 1920 federal census only consists of 4 pages. So, I think that it is reasonable to imagine that Marian became acquainted with Harry and his family as a result of teaching school in SD. Harry and Marian were married in April of 1921, probably in Lemmon, SD. Hettinger, ND, would have been closer, but I'm sure that Lemmon was more accessible to Marian's family, who were living north of Lemmon.
In 1914 and again in 1919, Harry had taken out land patents on land in Castle Butte Township (section 33). However, their first child, Velma was, born in ND. I believe that Harry was somewhat itinerant, finding work where he could. Eventually, however, the family settled in at the Castle Butte homestead, where they are enumerated in the 1930 federal census. By 1930, the family included two daughters - Velma and Shirley (born in SD). In the 1935 SD census, Marian is listed as a housewife in Perkins Co., SD. The same is true in the 1940 federal census, except that an infant son (Dennis, b. 1938) has been added.
In the early 1940s, the family relocated to Gettysburg in Potter County, SD. At that point, they were operating a Texaco gas station and adjoining tourist cabins. Marian had a job as a clerk in the local Red Owl grocery store. Unfortunately, Harry died in 1945.
Not long after that, Marian must have taken up teaching again. The picture above is from a school photo taken in 1954. At some point around this time she also attended Black Hills College in Spearfish, SD.
In 1956 she married Christ Snorteland, who was a well-to-do rancher with land south of Hettinger, ND, and a house in Hettinger, ND. After Christ died in 1972, Marian eventually moved back to the Mound City area, where she stayed until her death in October, 1995.
Harry Bates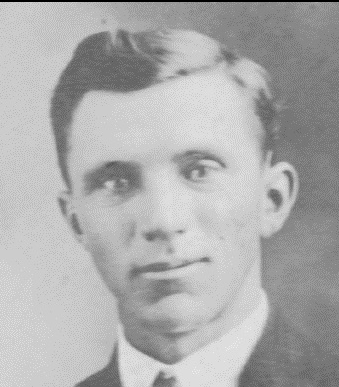 Harry is known to me only through a small number of conversations about him with my mother and what records are left that trace his activities.
Harry was born to Agnes Moodie and Charles J. Bates (a.k.a. Clarence Tupper). Their marriage was hastened by Agnes' brother, William, who brought legal action against Charles/Clarence since Agnes was only 15 and pregnant. Harry's birth took place in rural southern Wisconsin (probably the city of Brodhead) in August of 1887.
Harry was eventually accompanied by siblings - May (1888), Frank (1891), John (1893), Elizabeth (1895), Susan (1898), and Grace (1901). The family lived in or near the town of Spring Valley, Rock Co., WI, where father Charles is listed as a farmer. So, it is reasonable to assume that Harry experienced a rural upbringing in his early years.
Unfortunately, his father was terminally ill with brain cancer in 1900, and he died a few months after the 1900 federal census was conducted in their part of the state. This left Harry as the eldest male in the family at the age of about 13. Whether he finished school is unknown to me, but I do know that in 1905 he appears in the WI census as a boarder in a nearby town of Orfordville. Following is a picture that I believe was taken when he was 18 (i.e., in 1905). It shows him at the creamery, which is likely the Roach Seeber Creamery in Footville, WI, just east of Orfordville. So, my guess is that he moved into Orfordville to more easily get to and from the creamery. His mother, a brother, and a sister appear in Brodhead at this time. I am not sure of the locations of the rest of the family members.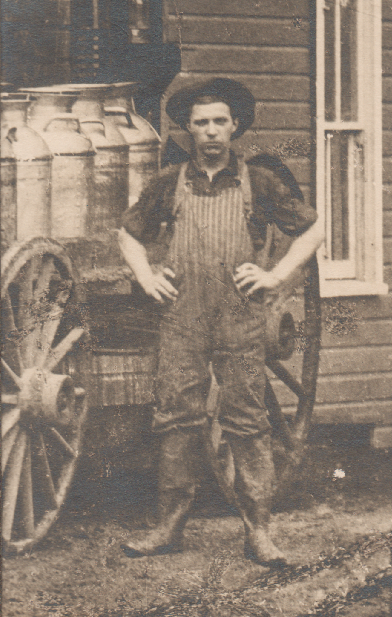 Subsequent events were not good for the family. Harry's sister, Grace, was adopted by another family and died. His brother, John, became ill and died. Then (in 1910?), a disaster occurred either at the creamery or on a farm that resulted in Harry's loss of his right arm. There is some evidence that he received some retraining at a business school in Janesville, WI. So, it may not be surprising that the family (less May, who had married in 1908, and Frank, who joined the Navy) moved west to South Dakota after Agnes married a man with the surname Randall.
I wish that I could say that things were more settled for Harry at that point, but in the next decade he seems quite itinerant. Here is a reconstructed timeline.

late July, 1910: residing with sisters Libby and Sue next to mother Agnes and her new husband in Perkins Co. SD
1914: opens a homestead claim in section 33 of twp 23N rng 13E of the Black Hills meridian (Castle Butte Township)
1915: the SD census shows him in Perkins Co., SD, but with a Haynes, ND, post office.
June, 1917: registers for the draft in Isabell, SD
1919: opens another homestead claim in the same section mentioned above
1920: the Federal census shows him back with his two sisters, living next to mother and her new husband in Castle Butte Township.
1921: in April, 1921 Harry marries Marian Loy in Lemmon, SD. Their first daughter (Velma) was born in late December.
Why, with roots in South Dakota, his first daughter was born in ND is not clear to me. However, from things that my mother has told me, Harry may have been doing mechanic work there. How this was possible with only one arm is also not clear to me. In any event, the family is back farming in Perkins Co., SD, in the 1925 SD census. The same is true in 1930. The Federal census then also shows that a second daughter (Shirley) has been born. The family continued there through April, 1940, when the Federal census was performed in Castle Butte Township. (Son Dennis was born during this time - 1938.) The family thus spent the worst years of the depression farming in Perkins Co., SD. It could not have been easy.
Some time in the early 1940s Harry and family relocated to Gettysburg, SD, where they operated so-called camping cabins and a Texaco gas station. The family all appears in the 1945 SD census at this location. This situation did not last long, however, as Harry developed pneumonia and died in 1946.
So, I hope you understand why I believe that Harry had a rather difficult life. Perhaps this explains why he sometimes would over-react with anger at my mother and hit her.
---
Backlinks:
281connections Wiki:About
281connections Wiki:South Dakota Families:Memorials