South Dakota Families
The four families described here arrived in Dakota Territory / South Dakota between 1884 and 1908, a roughly 20 year period when the state was getting started and land was being made available to homesteaders. Each family did in fact homestead some land there. Their primary locations are shown schematically in the old (1891) map that follows.

In general their migration stories are very representative of a general movement westward to take advantage of "fresh" land as it was taken from various Indian Nations by the U.S. government and made available to largely white settlers for agricultural development. My opinion is that they were unfortunately misled about how difficult it would be to make a go of it in Dakota. David Laskin in the last chapter of his book The Children's Blizzard summarizes the problems of life there. Here is an excerpt about the aftermath of the 1888 blizzard that the book addresses.
"The memories still burn. They burn all the fiercer because sorrow, sadness, and heartache did indeed follow the blizzard's train. Drought ravaged the prairie in the 1890s. Thousands who had borrowed against their homesteads went bankrupt in the financial panic of 1893. Farm income slipped steadily in the last decades of the nineteenth century. The price of corn fell by half between the mid-1870s and the 1890s. A great exodus commenced on the prairie. By the time the rains returned late in the 1890s, over 60 percent of the pioneer families had abandoned their homesteads."
On my maternal side, information that is included describes the family of Charles and Agnes (Moodie) Bates as well as the family of Sam and Anna (Allen) Loy. These families came together in northwestern South Dakota, not too far from Lemmon in Perkins County. (The Allen/Loy family originally started in the area of Campbell County and then moved to Perkins County.)
On my paternal side, there is information about the family of Ole and Caroline (Olsen) Thompson as well as that of Johannes and Barbara (Kessler) Rombs. These families came together in Potter and Faulk Counties.
As I have researched these families, I have encountered some things that are still mysteries to me. Descriptions of these mysteries is on a separate page. And, so as not to forget descendants, I have included a section devoted to memories of children and grandchildren of the people mentioned above.
Hints at deeper roots come from DNA testing. An example result from such analysis is shown below. The expected links to the British Isles, Western Europe, and Norway are present.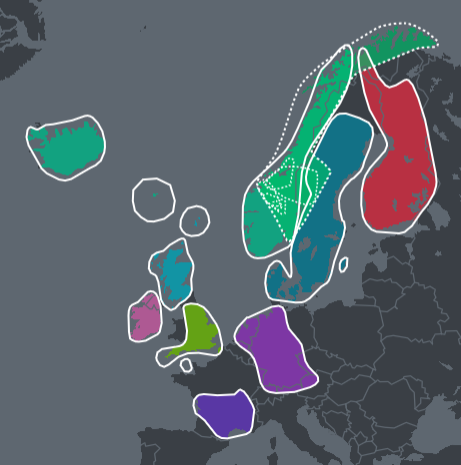 For each of these families I have prepared a document that describes the sources of the information that I have as well as some additional details about the families, ancestors, and descendants. Links to these documents appear in the appropriate sections. Please contact me if you have comments, changes, etc. to offer. Surnames included in a related family tree are shown below in cloud and list form.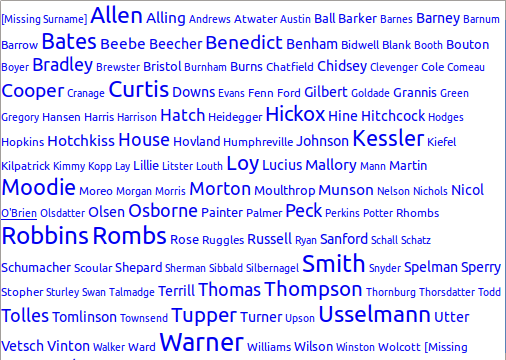 Surname List
[Missing Surname] Adams Allen Alling Atwater Ball Barker Barnes Barney Barrow Bates Baumgartner Baumstark Beebe Beecher Benedict Benham Bentley Bidwell Blank Bouton Boyer Bradley Bristol Burnham Burns Chatfield Chidsey Clevenger Cole Cooper Cranage Culp Curtis Downs Eisenzimmer Fenn Fetsch Ford Gebhard Gerber Gilbert Goldade Graff Grannis Gregory Halter Hansen Harris Hatch Heath Heidegger Hickox Hine Hinman Hirsch Hitchcock Hodges Hoffart Hoffsaess Hopkins Hotchkiss House Hovland Humphreville Jaeger Johnson Kah Keller Kesler Kessler Kiefel Kilpatrick Kinkle Kopp Lay Leopold Lillie Litster Loy Lucius Mallory Mann Martin Merse Mitzel Moodie Moreo Morton Moulthrop Munson Murray Nichols Nicol Olsen Osborne Painter Palmer Peck Pierce Potter Rhombs Robbins Rombs Rose Rower Ruggles Russell Sanford Schall Schatz Scherr Schickel Schumacher Scoular Senger Sennhauser Shepard Silbernagel Smith Spelman Sperry Stopher Terrill Thomas Thompson Todd Tolles Tomlinson Tupper Turner Upson Usselmann Utter Vetsch Vinton Walker Ward Warner Weber Werner Williams Wilmot Wilson Winston Wolcott Wüst
---
Backlinks:
281connections Wiki
281connections Wiki:About